Search U7 Files:
Search Files
Sponsor:
Browse:
Areas Of Interest
Authors Area
Are you a software author? Take a look at our Author Resource Center where you will find marketing tools, software specifically created for promoting your software and a ton of other helpful resources.
Business :: Office Suites & Tools
Ailt All Document to HTML Converter is an easy-to-use and flexible converting tool. With this powerful converter, you can convert different Office document formats, PDF, Images ect to HTML with fast conversion speed. It can support comprehensive formats: PDF, DOC, DOCX, DOCM, RTF, XLS, XLSX, XLSM, PPT, PPTX, PPTM, TXT, JPG, JPEG, BMP, EMF, WMF, TIFF, GIF, PNG, PCX, J2K, JP2 etc. More setting options can be provided to let you control the output file more accurately. Advance Features: User-friendly interface, very easy to use, just a few clicks can finish the conversion. Supports to convert Image files to editable HTML document. It supports multiple documents conversion (Batch Processing). It is a standalone program which does not need Adobe Acrobat software support. Supports to add files by dragging and dropping Supports to save and load the converted file list. Supports to choose the entire folder to convert. Supports to extract the text of PDF to convert. Supports converting the encrypted PDF file. You can convert the whole PDF file at once or you can choose specific pages. Supports converting PDF files into editable Html documents. Preserves the original PDF text,table, layout etc in the generated document. Supports to convert PDF to HTML by default mode and extract the text mode. Supports to merge PowerPoint slides to single HTML file by default mode, image mode and plain text mode. Supports to extract the text of PowerPoint to HTML. Supports to convert each page of Word/Rtf to single file. Supports to combine sheets content of Excel to single file. Supports to merge converted image files to one single HTML file. Supports to convert each GIF, TIFF image to one HTML file. Supports to choose the storage path. Supports to automatically open the output folder after converted. Supports saving output files in the same folder as source files. More...
Similar Products:
Business :: Accounting & Finance

Flash Brochure Free PDF to HTML is a free HTML converter. With this HTML freeware, you can publish HTML from ordinary PDF files. And the most important point is that you don't need to pay anything for this great converter!
Windows | Freeware
Read More
Business :: Office Suites & Tools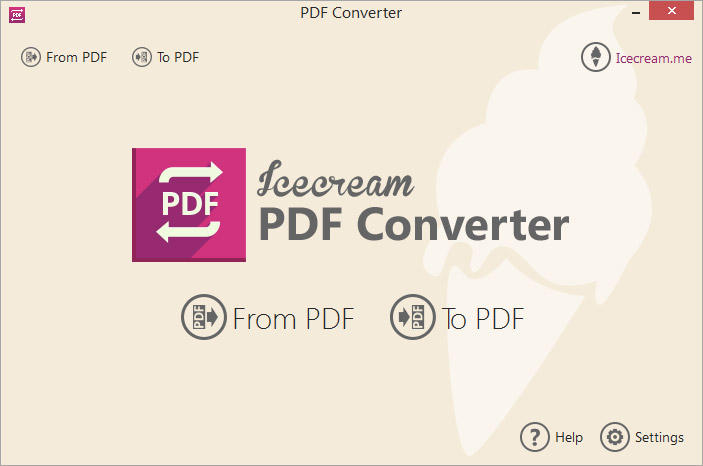 Icecream PDF Converter is a software for conversion of files of multiple formats to PDF as well as for conversion of PDF files to others. Software has 2 modes that are To PDF and From PDF. Such formats as doc, xls, odt, ods, html, jpg, png, bmp, epub, mobi fb2 and more can be turned to PDF, and PDF files can be easily converted to jpg, bmp, tiff, png and more. User friendly interface will help users to proceed conversion of their files easily.
Windows | Freeware
Read More
Business :: Office Suites & Tools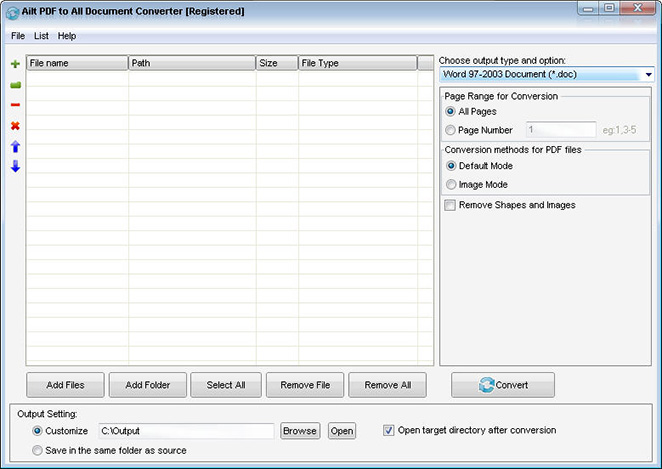 Ailt PDF to All Document Converter is an application which you can use to convert PDF files to any file format like Word, Excel, PowerPoint, SWF, image etc. It can support comprehensive formats: DOC, DOCX, DOCM, RTF, XLS, XLSX, XLSM, PPT, PPTX, PPTM, SWF, TXT, HTM, JPG, JPEG, BMP, EMF, WMF, TIF, GIF, PNG, PCX, ICO, J2K, JP2 etc. It does not need Adobe Acrobat software support.
Windows | Shareware
Read More
Business :: Office Suites & Tools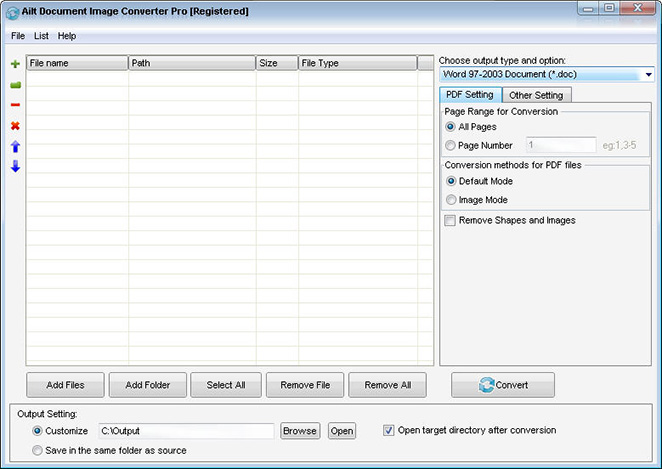 Ailt Document Image Converter Pro is a useful and handy converter used to batch easil convert among any file format like Word, Excel, PowerPoint, PDF, TXT, HTML, JPEG, BMP, GIF, TIFF, EMF, WMF, SWF etc.The conversion tool provides users with fast conversion speed. It can support comprehensive formats: PDF, doc, docx, docm, rtf, xls, xlsx, xlsm, ppt, pptx, pptm, txt, htm, jpg, jpeg, bmp, emf, wmf, tif, gif, png, pcx, ico, j2k, jp2 etc.
Windows | Shareware
Read More
HOSTED BY N5 Networks