Search U7 Files:
Search Files
Sponsor:
Browse:
Areas Of Interest
Authors Area
Are you a software author? Take a look at our Author Resource Center where you will find marketing tools, software specifically created for promoting your software and a ton of other helpful resources.
Graphic Apps :: Converters & Optimizers
AP PDF to Image Batch Converter is a useful pdf tool, it can create multifarious raster image documents such as bmp, jpg/jpeg, tif/tiff, gif, png, pcx and so on, the converter produces fully functional image documents with text, pictures, graphics etc, using the original PDF document formatting. It does not need any software support, such as Adobe Acrobat, Acrobat Reader, etc. AP PDF to Image Batch Converter supports outputting result pages to be customized. You can select sevral pages document to convert,and even at the discretion of you to convert pages document. Such as "1,2,3","2-100" etc,more information,please reference to page range setting . It process the documents one after another, to ensure a output directory for each of them and placing all the finished files of the document into its corresponding directory.
Similar Products:
System Utilities :: File & Disk Management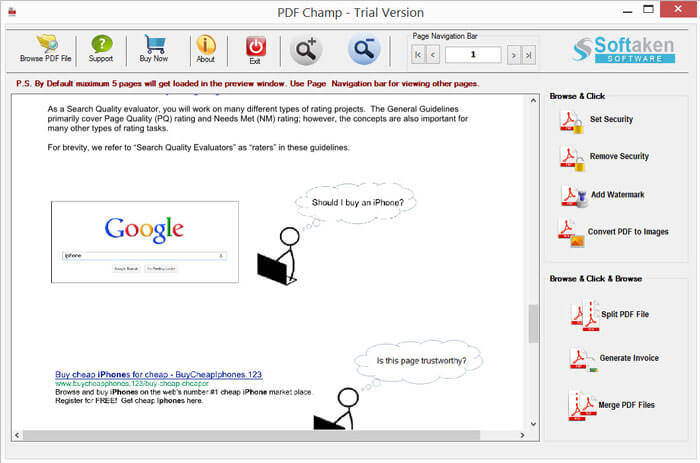 Simply manage PDF files with Softaken PDF Champ. This one tool works in many ways by combining small PDF files, by dividing large PDF files, add watermark to PDF, remove PDF file restrictions, convert PDF into Images of various types, etc. Instant processing without any damage and loss of information. Free PDF Champ trial for testing.
Windows | Shareware
Read More
Business :: Office Suites & Tools

Convert PDF files to dozens of image formats, such as TIFF, JPEG, PNG, BMP, PCX, GIF, WMF, EMF, TGA and so on, it retains the layout, images, text, line, ellipse, color, and formatting of the original PDF file. And Convert most of popular image formats, e.g., TIF, TIFF, JPG, JPEG, GIF, PNG, BMP, PSD, WMF, EMF, PCX, PIC, etc into PDF documents consist of entire graphics, text and resolution without any misrepresentation in original format.
Windows | Shareware
Read More
Development :: Components & Libraries

Convert PDF files to dozens of image formats, such as TIFF, JPEG, PNG, BMP, PCX, GIF, WMF, EMF, TGA and so on, it retains the layout, images, text, line, ellipse, color, and formatting of the original PDF file. And Convert most of popular image formats, e.g., TIF, TIFF, JPG, JPEG, GIF, PNG, BMP, PSD, WMF, EMF, PCX, PIC, etc into PDF documents consist of entire graphics, text and resolution without any misrepresentation in original format.
Windows | Shareware
Read More
Development :: Components & Libraries

A universal document conversion Java library designed for easy integration into your own apps. Allows you to convert over 50 document types, including Microsoft Word, Excel, PowerPoint, Project, Outlook and Visio to PDF and raster image files. The library doesn't require Microsoft Office Automation, has no 3rd party dependencies and can be easily integrated into your own app hosted on any Java servlet container.
Windows MAC Linux | Shareware
Read More
HOSTED BY N5 Networks